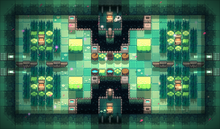 Overview
A lot of strategy and fighting takes place around the four trees adjacent to the chokepoint.
The closer to the chokepoint you get the less safe places there are to stand. Watch out for prospecting shots through the chokepoint.
If you are really stuck, try shooting out the bushes and stumps to make the chokepoint wider.